Welcome to Tring Lions Club
Tring Lions continues to raise funds and serve the community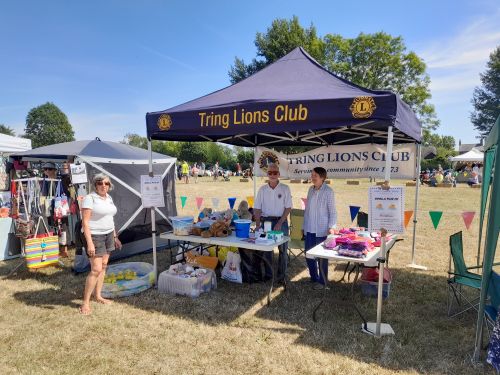 Waiting for the opening of the Long Marston Fete 6th August and tempting the kids to hook-a-duck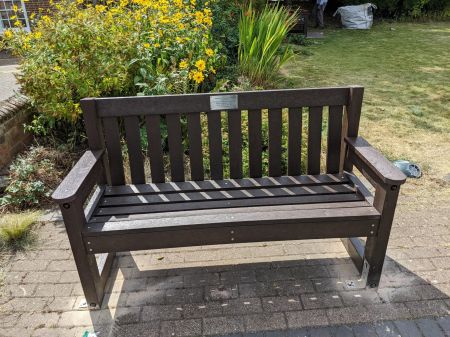 ..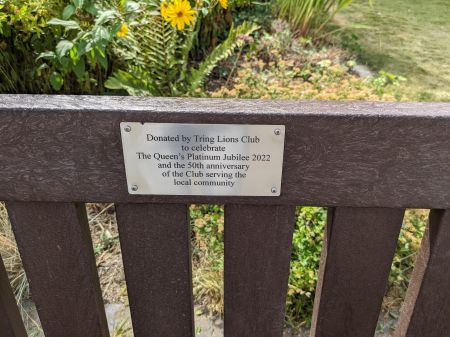 ..
Five new benches have recently been installed in the churchyard of St Peter and St Paul's church in Tring
Two of these were sponsored by Tring Lions to celebrate the Queen's Jubilee and the Club's 50th anniversary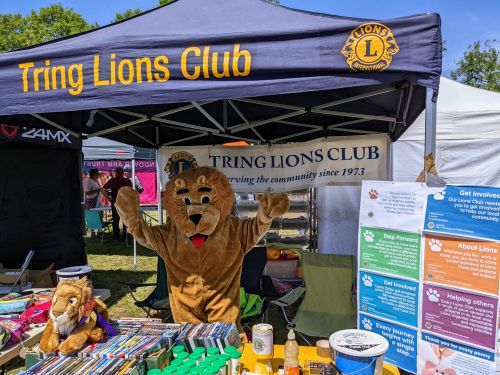 .
.
.
.
.
.
..
.
Our Stall at the Tring Carnival on Saturday
.
..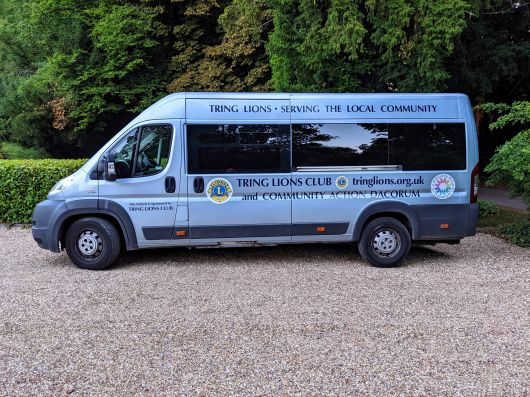 ..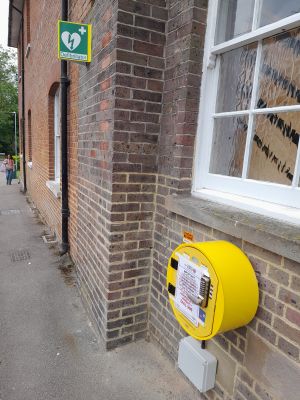 Two recent examples of how Tring Lions are supporting the local community.
Sponsorship of a Community Action Dacorum minibus and installation of a defibrillator at New Mill Baptist Church
.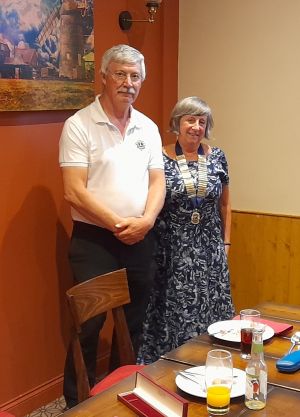 .
.
.
.
.
Tring Lions recently gathered at the Kings Arms in Tring to celebrate the changeover from our current President Mick to our new President Penny
.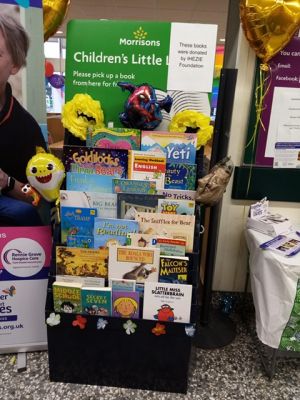 To encourage children to read, Morrisons in Leighton Buzzard have a display from which children can take books for no charge. The display is regularly topped up by Tring Lions from books provided by the Ihezie Foundation which is based in Milton Keynes
.
.
.
.
.
.
.
Why not have a go at our latest quiz. 50 cryptic clues the answers to which are all London Underground stations
The waiting is over, we hope you enjoyed the quiz, here are the answers:

Underground Quiz - answersV3.pdf

Underground Quiz - questionsV3.pdf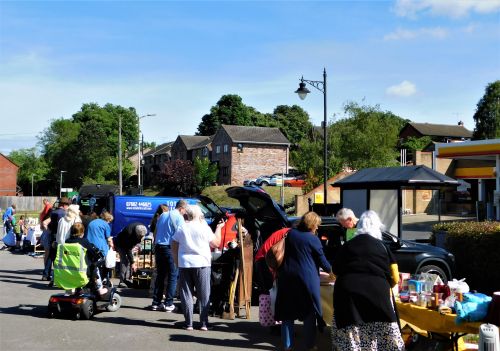 There was a healthy attendance at our Car Boot Sale Sunday and we raised over £170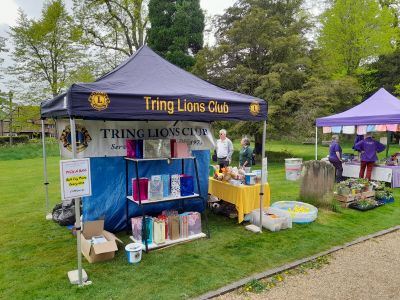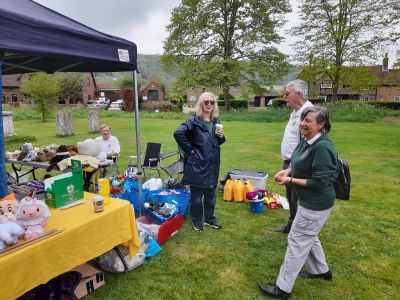 Getting ready for the Aldbury May Fayre where we raised over £500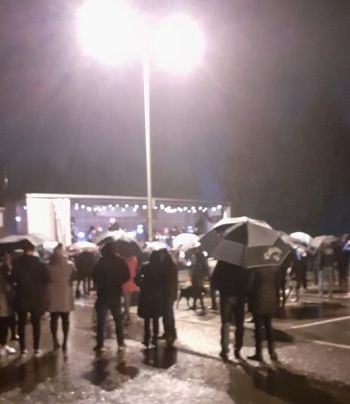 Christmas Carol Concert
Despite covid we decided to go ahead with our traditional Carol Concert
in the Forge Car park.
.
Our thanks to all those who helped set it up and to the citizens of Tring who braved the dreadful weather to join in the singing and donated around £335 which we will use to support the Pepper Foundation
Chocolate Santas
Our raffle of chocolate Santas at Meads, Graces and Metcalfes raised
around £130
.
Sports Quiz
We hope you enjoyed the quiz and thanks to your generous donations we raised almost £250 to support Homestart
.
Some of the Good Causes that we supported with donations in 2021
The Pepper Foundation - Various Local Scout Groups - Sunnyside Rural Trust - Dacorum emergency night shelter
Herts and Essex Air Ambulance - Thames Valley Air Ambulance - Jamjaran Temple - India Covid Appeal
Riding for the disabled - Stoke Mandeville scanner appeal - LCIF emergency fund - Spinal Injuries Association
Tring Community Radio - Lifelites -. Royal British Legion -. DENS Emergency Care Packs
Sightsavers - Tring Radio Toy Appeal - Wendover Canal Trust - Tring Together
.
Tring Lions enjoying their Christmas social at the White LIon at Bourne End
..
..

.................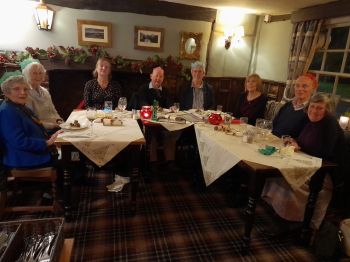 ....
Membership
The Club welcomes new members who would like to be involved in a variety of fund raising projects and community service,
at the same time enjoying being part of an active social Club. Anyone interested can find out more by clicking on 'Contact Us' and we will be in touch
Meetings
Our Business Meetings are held every first Tuesday of the month at the Pendley Manor Hotel. Monthly informal social gatherings are held at local hostelries.
Useful Links
To find out more about Lions in our District visit http://www.lions105a.org or in GB http://www.lionsmd105.org
Gift Aid
If you would like to gift aid any donation you make to Tring Lions please download this form and forward it to mike.adams@tringlions.org.uk..

Gift Aid Declaration Multiple Donation.pdf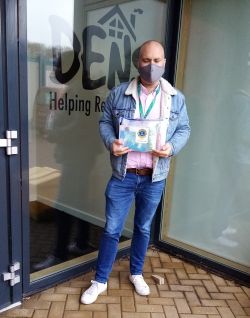 Tring Lions recently supplied 20 emergency care packs that can be given to new arrivals at DENS. DENS is a charity that aims to be the first port of call for people in Dacorum who are facing homelessness, poverty and social exclusion and provides access to temporary and short-term accommodation.
.
.
.
Tring Apple Fayre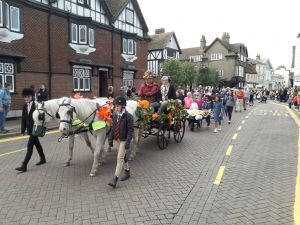 .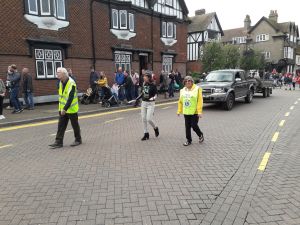 ..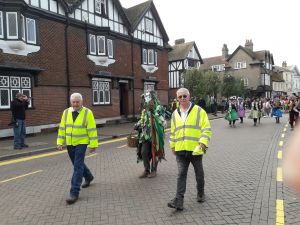 .
On Saturday October 9th Tring Lions helped with the marshalling at the Tring Apple Fayre procession
.
Car Boot Sale
.
..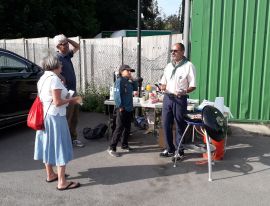 ..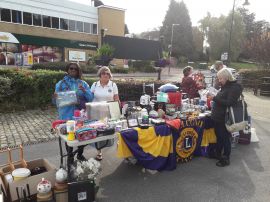 ..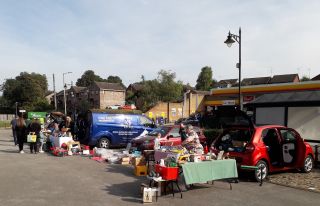 .
On Sunday 12th September we had a successful car boot sale in the Market Square and raised around £200
which will be used to support local good causes.
.

Here we are at Tring Carnival
.
Our first gathering in over a year
We recently met at the Kings Arms in Tring, not only to enjoy our first social gathering for well over a year, but also our 'Changeover', passing the baton from one year's President to the next. We missed out last year, so this year it was a double celebration.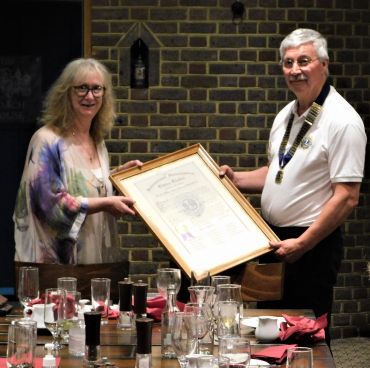 ...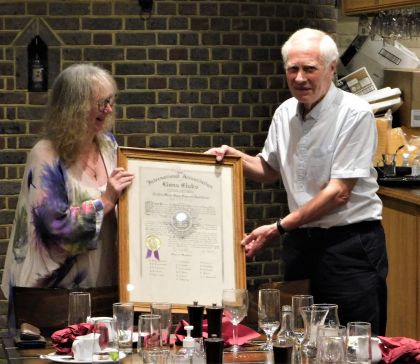 Alan to Ruth ............................................................................ Ruth to Mick
.
The Lions Bookshop has re-opened
Welcome back! The Lions Bookshop in The Marlowes Centre in Hemel Hempstead has now re-opened. Shop hours are:
Monday - Saturday 0900 - 1700, Sundays 1100 - 1700
.
Fund Raising Quizzes.
We hope you enjoyed our series of quizzes during 2020 which, altogether, raised over £1000 for local good causes.
Click here to have a look at all the questions and answers quizzes
.


Message in a Bottle
.
This is a scheme initiated by the Lions for anyone living at home, who might be reassured to know that essential information would be readily available to the Emergency Services, should they suffer an accident or
sudden illness.
.
Tring Lion Angelo recently distributed a number of the bottles to residents at Sheldon Lodge, Berkhamsted
.
For more information please click on: MIAB
.
.
.


Easter Bunnies
In years gone by we raffled around 14 Easter Bunnies in local shops and pubs, this year we could only raffle 3.
We still managed to raise over £200, which we will use to support local
good causes .
Our thanks to Graces, Metcalfes and Meads Farm Shop.
.
.
The Yomelalani Centre (Sandra is the one in the hat)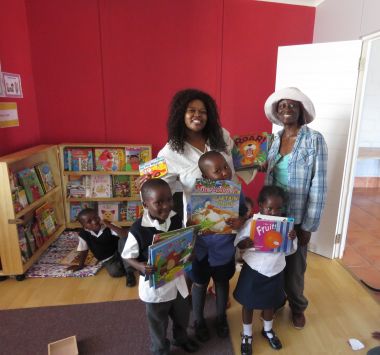 Two Tring Lions, Sandra and Robin, have developed links with a township Early Years Centre in Hermanus, South Africa and visit regularly. This centre has been established through the input of visitors to the region, combining with local companies and supportive individuals. Funding is provided through a Trust, which is a registered charity in the UK. In the last few months the number of children in the school has increased from 150 to over 200.
Tring Lions have been gathering relevant books and Sandra and Robin took them out on their recent visit as part of their ongoing commitment to the development of the Yomelalani Centre. The school were delighted with the books and started using them with some of the children almost immediately. Others were placed in book corners available in each classroom. The centre is becoming a key resource for the area and Robin and Sandra were part of a group providing an after-school craft club in the Centre for local children.
To find out more or make a donation please click on Yomelalani
To find out more about Tring Lions involvement please click on contact us
.
.
Christmas Carol Concert.
No Christmas Eve carol singing in the Forge Car Park this year but, thanks to Tring Radio and the LAR Choir, we were able to listen to a superb Carol Concert live on Tring Radio .
Thanks to your generosity we were raised over £400 for The Pepper Foundation
.
Chocolate Father Christmases.
Last year we raffled 14 Chocolate Father Christmases in local shops and pubs, this year we could only raffle 4 but we still managed to raise £325, which we will use to support local good causes .
Our thanks to Graces, Metcalfes, Meads Farm Shop and our own Bookshop in the Marlowes.
.......................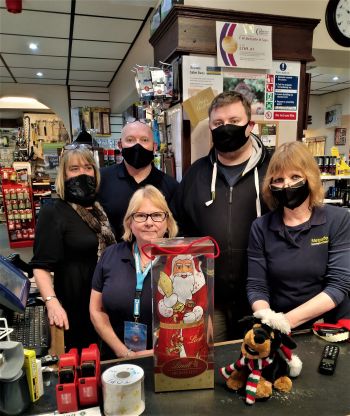 ................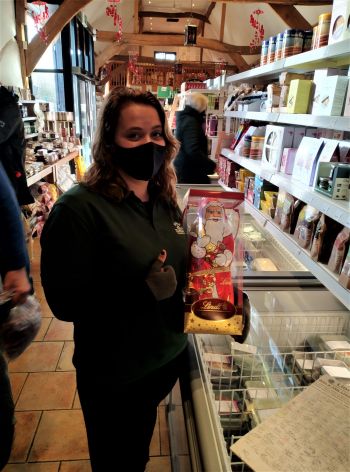 ..
.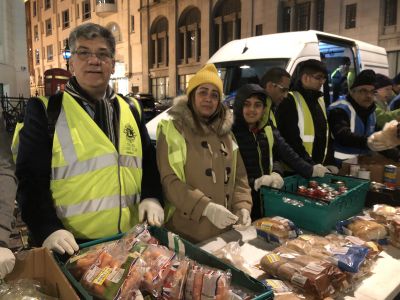 .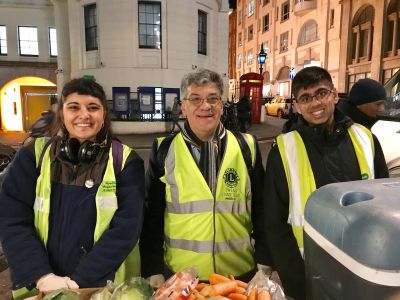 …...

Tring Lion's member Angelo joining other volunteers to provide food for the needy outside Charing Cross Station
.
************************************************
Tring Lions have had a busy December (2019!!!!!) fund raising for the many good causes that they support.
……..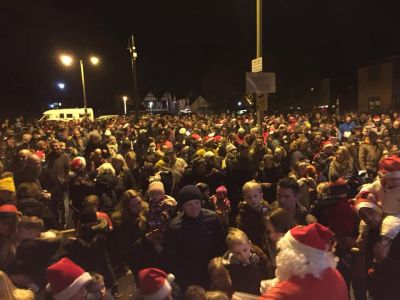 ….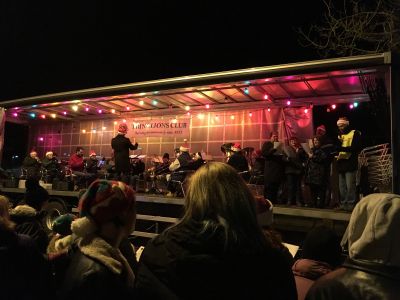 ..

The people of Tring donated an amazing £1300 at our Christmas Eve Carol Concert. This will be divided between the local scouts group (who helped at the concert) and Hectors House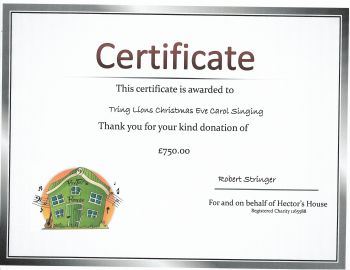 ......
……………..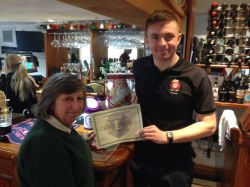 ..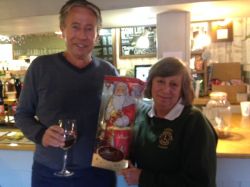 ..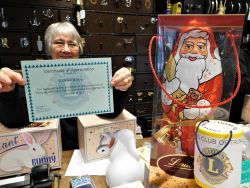 ..

.
Our Chocolate Father Christmas Raffle proved very popular and it raised £562. Our thanks to Graces, Beechwoods, Metcalfes, Dunsley Farm Shop, Meads Farm Shop, The Greyhound Aldbury, The Greyhound Wiggington, The George Berkhamstead, The Old Swan Cheddington, The Bell Bovingdon, The Bull Berkhamsted, The Goat Berkhamsted, The Rose and Crown Berkhamsted and The Rose and Crown Ivinghoe for supporting the raffle.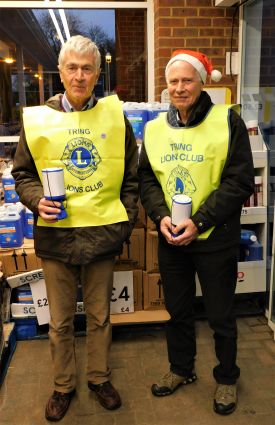 .......…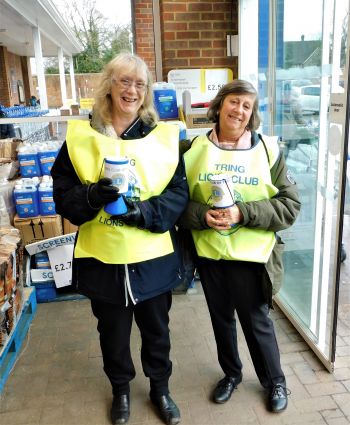 ...

We collected over £500 outside Tesco's. The money raised will be donated to Hearing Dogs for Deaf People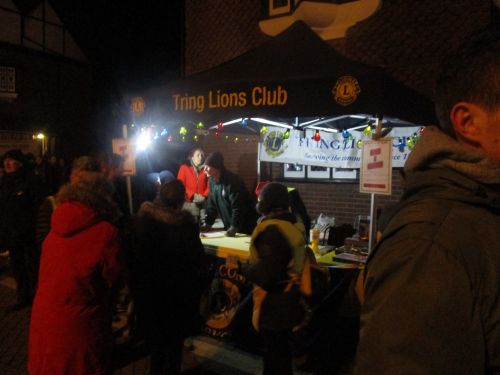 ....

Our slightly eerie looking roll-a raffle stall at Tring Christmas Festival where we raised £175. Our thanks to the many local Companies who donated prizes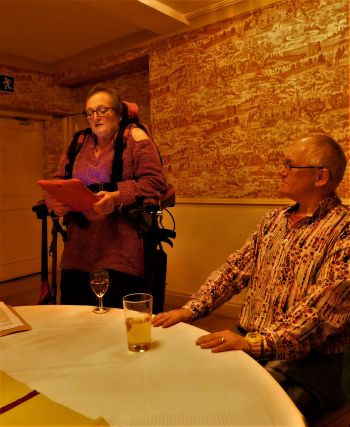 ..
Lynne Sherring-Lucas, with her husband Bruce, showing off her new standing wheelchair (which the Lions helped to sponsor) at one of our recent meetings.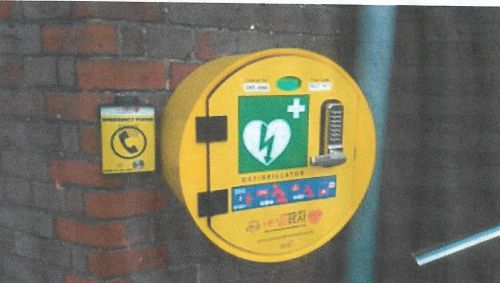 In conjunction with the Community Heartbeat Trust, Tring Lions are organising a Defibrillator Seminar. The seminar will demonstrate the use of defibrillators and how the equipment works.
Everybody is welcome, no special skills are required just your willingness to play an important role in the event of a medical emergency.
It will be held in the High Street Baptist Church, 89 High Street, Tring HP23 4AB on Thursday 3rd October 14:30 - 16:30
If you would like to attend or require some more information please click here contact us
.
.
The Lions Book Shop in the Marlowes Shopping Centre, Hemel Hempstead Has now moved and is located next to Sports Direct
Come and have a browse and pick up a bargain, in general paperbacks cost 70p and hardbacks £1.
…...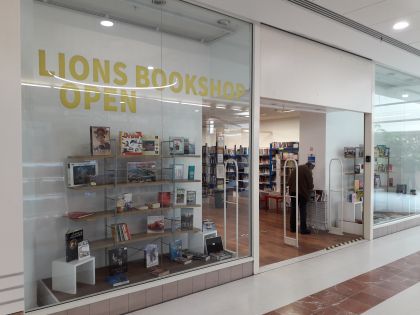 …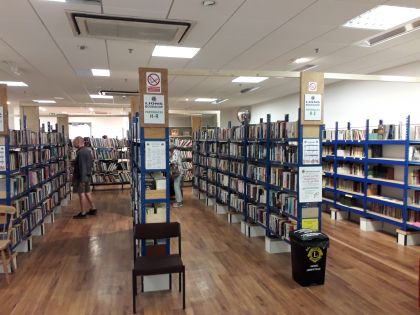 '''
On 31st August Tring Lions member, Angelo Ferraro, bravely took to the air at Headcorn Aerodrome for a sky jump. Angelo was raising funds to support Tring Lions project to buy 3 spot vision screeners. These machines can be used to detect problems in children from 6 months and upwards who are at risk from eye illnesses.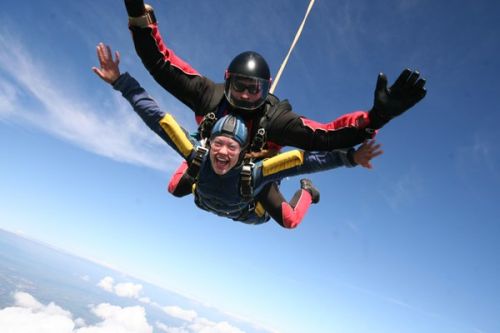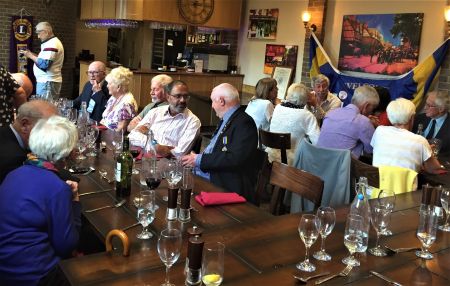 .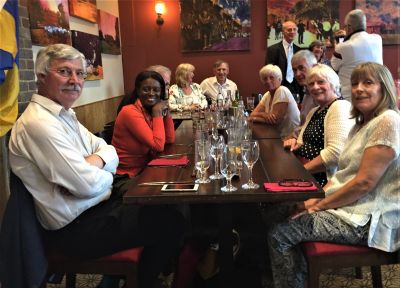 ..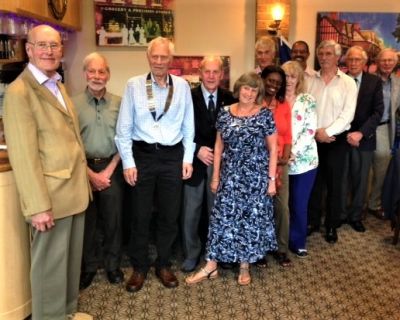 ..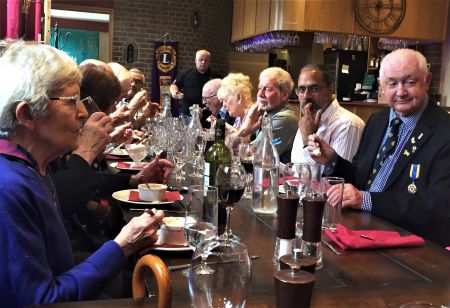 ..
.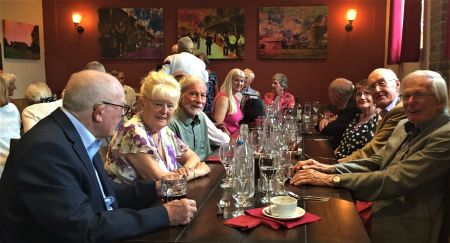 Tring Lions Club recently enjoyed a lunch at the Kings Arms to celebrate the 46th anniversary of serving the local community. It was also the occasion of Lion President Penny handing over the reins for the next year to Lion Alan.
…......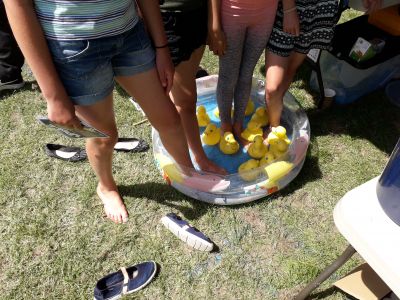 …...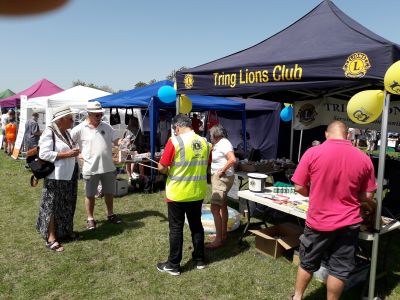 It was the hottest day of the year at the Tring Carnival but our hook-a-duck not only provided excitement for the younger children but an opportunity to cool down for the slightly older ones.
.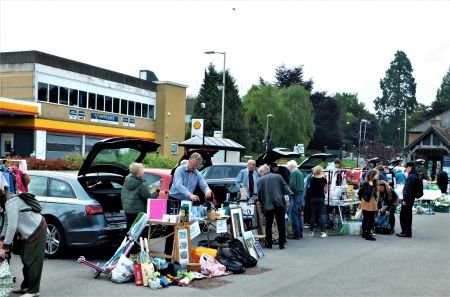 ……..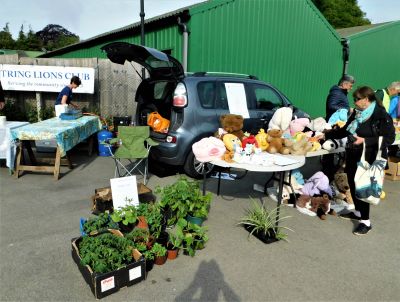 ..
.
....
.
Scenes from our recent Car Boot Sale where we raised £270 and also gave the opportunity for pupils of Tring School to have their own stalls to support their World Challenge fund raising.
.
..

.
…………... The Lions getting ready for the Aldbury Fete where we raised over £500
.
.
Our Easter Bunny Raffle proved more popular than ever this year and raised around £950.
Our thanks to Graces, Beechwoods, Metcalfes, Dunsley Farm Shop, The Greyhound Aldbury, The Greyhound Wiggington, The Rose and Crown Ivinghoe, The Goat, Berkhamsted, The Bell Bovingdon, Berkhamsted Squash Club The Kings Arms Berkhamsted, The Bull Berkhamsted, old Swan Cheddington, The George Berkhamsted, Meads Farm Shop
To see a few pictures click on Easter Bunnies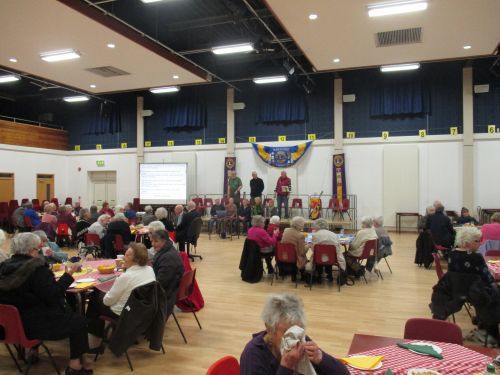 .

On 13th April Tring Lions held their annual 'Entertainments Evening' at Tring School, for the Senior Citizens of Tring. Around 90 people attended and they were wined and dined by the Lions and entertained by the Dacorum U3A Folk Song Group. For more pictures click on entertainments evening
.
Tring Lions President, Penny Tregillus, has recently presented Melvin Jones Fellowship Awards to Club Members David Lang and Derek Grant in appreciation of their services to the community and the Club. A presentation of an engraved vase and flowers was also made to David's wife, Sue, for her continuing support of the club's activities
.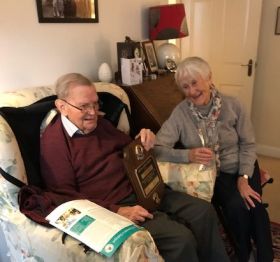 ....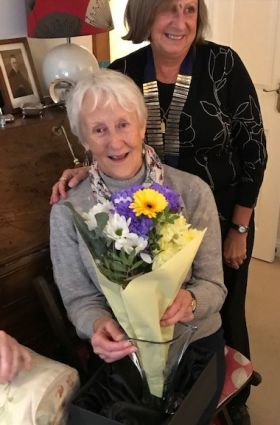 .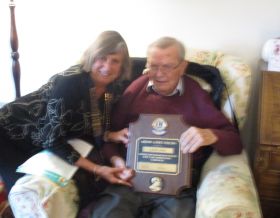 David and Sue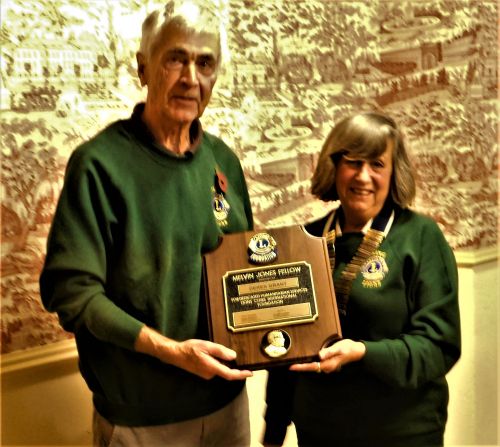 ..
Derek
Fund Raising
Over the last 3 years Tring Lions have raised over £25,000. The Club members fund any administrative expenses so 100% of money raised is distributed to worthy causes, over the last 12 months these have included:
Senior Citizens Parties... Admiral Nurses... Hospice in Poland...Wendover Arm Canal Trust
India Flood Appeal... Dacorum CAD minibus.... COGS Clubs... Rennie Grove Hospice
Homestart...Hope for Children... Juvenile Diabetes ...Vale Symphonic Orchestra...Tring ATC
Poppy Appeal/British Legion... Red Cross Syria appeal... Tring Youth Project...Tring Tornadoes Junior Sports
RNIB... Save the Children... Stoke Mandeville scanner appeal.. Tring War Memorial refurbishment
St Joseph's Care Home... Tring School World Challenge... Thames Valley Air Ambulance...Tring Together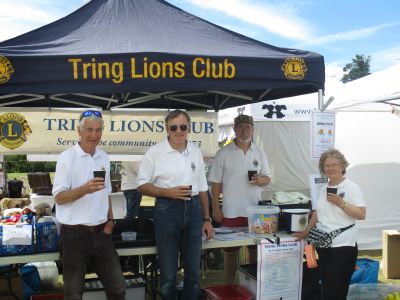 ......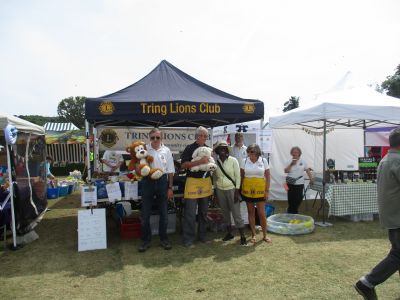 A sunny day at Tring Carnival.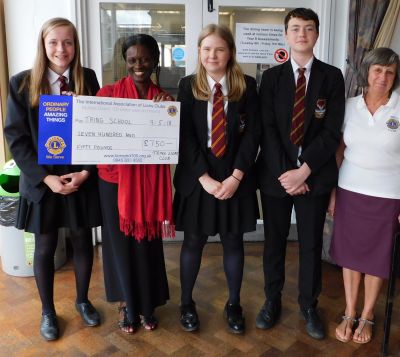 We recently made a presentation of £750 to Tring School to support their World Challenge projects in Sri Lanka and Belize
.

.

.

.

.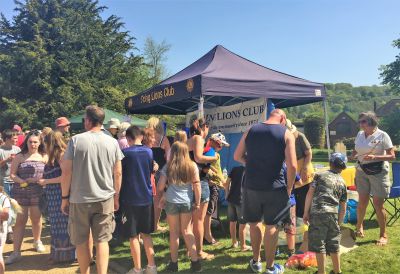 .
.
.
.
.
A busy day at Aldbury Fayre on Bank Holiday Monday..............
.
.
.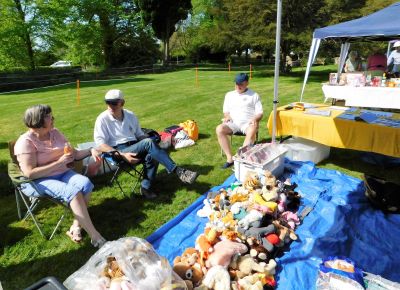 .
.
.
.
.
.........but we still had time to relax
.
.
.
.
.
The Lions had a busy day on Saturday with a stall in Church Square at the launch of the Tring Spring Fair and then hosting around
90 of Tring's Senior Citizens at the annual Entertainments Evening. This year the event was held at Tring School and we were entertained by the excellent BURP ukelele band from Berkhamsted. For more pictures please click on entertainments evening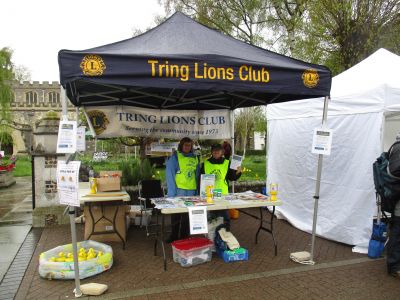 ..............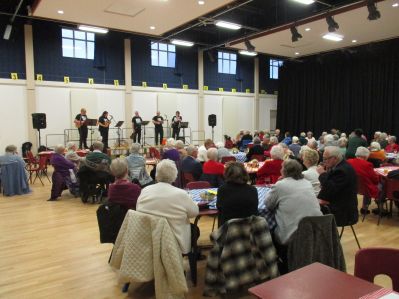 ...............................Tring Spring Fair ......................................................................... Entertainments Evening
.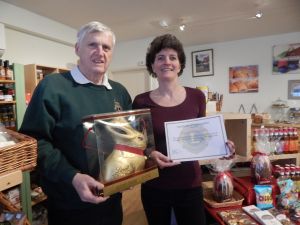 This Easter we raffled nine Easter Bunnies at various establishments around Tring and raised over £500 to support local good causes, our thanks to all the organisations who supported us. To look at a few more photographs click here Easter Bunnies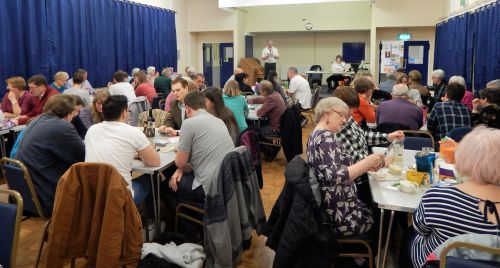 .....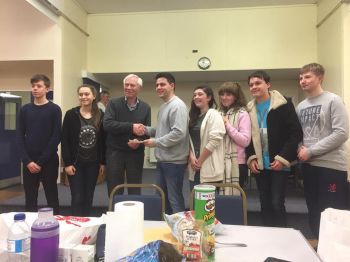 In conjunction with Tring ATC the Lions held their annual quiz evening at the Nora Grace Hall on Friday 19th March. It most enjoyable evening and at the end the Lions made a presentation of a cheque for £300 to the ATC
.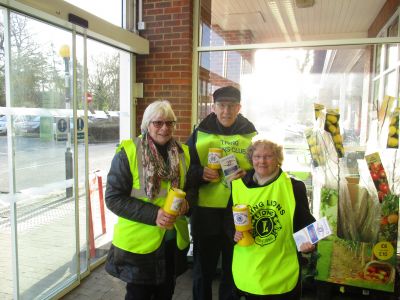 Tring Lions were collecting outside Tescos on Friday 16th Feb in aid of Scannappeal who are raising money to buy specialist equipment to help and restore vision for local people.
.
Thanks to Tesco's and their customers we collected £392 which the Club will make up to £500.
.
.
.

.
On Christmas Eve around 1000 people gathered in the Forge Car Park for the Lions annual Carol Concert, thanks to their generosity over £1500 was raised to support local good causes.
Representatives from Tring School recently attended one of our meetings and made a presentation on their World Challenge expedition to Belize in 2017 and their plans for Sri Lanka in 2018. In Belize the pupils helped build a shelter adjacent to a small community clinic, they will be involved in a similar project during their Sri Lanka expedition.
The Lions have offered their support for both projects. .
.
...........................................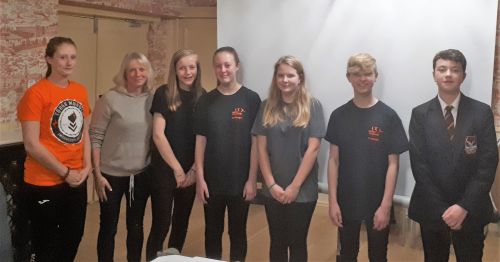 ....................

.
...........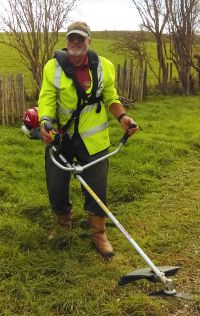 .
.
Tring Lions recently helped the Wendover Arm Trust purchase a new brushcutter. Apart from their restoration activities, the Trust also organise a 'Tidi Friday' working party once a month to help keep the canal and its surroundings looking neat and tidy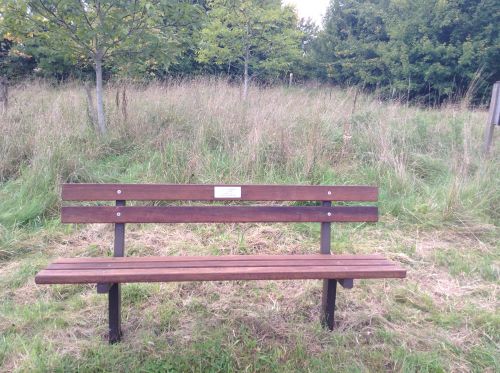 .
.
.
.
. To celebrate the Millennium, Tring Town Council created the 'Millenium Woodland' close to the Allotments in Duckmore Lane and Tring Lions sponsored the installation of a seat so that walkers could enjoy the view.
.
Thanks to the dedication of Lion Derek the seat has recently been restored to its former glory.
.
.
With nearly 1,500,000 members in over 200 countries Lions International are currently celebrating their 100th anniversary, to mark the occasion Tring Lions updated the wording on the Community Action Dacorum bus that they sponsor.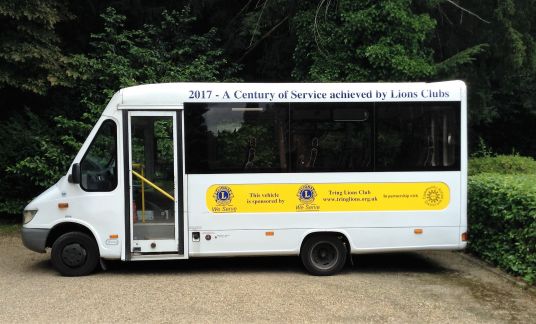 Tring Lions have recently sponsored some new signage along the Wendover Arm of the Grand Union Canal. The branch of the canal runs from Bulborne near Tring to Wendover and is currently being restored by the Wendover Arm Trust. The signage will guide walkers around a section of the canal at Little Tring where the towpath is inaccessible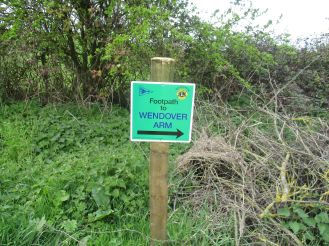 .... ....................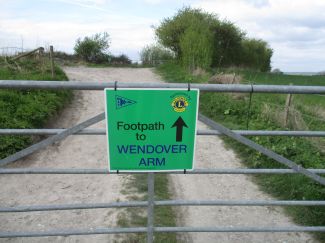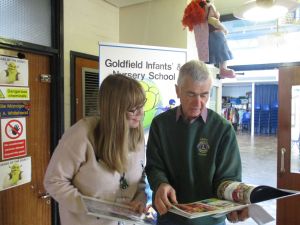 Last year Tring celebrated the 700th anniversary of the granting of Town Charter status by King Edward II. To commemorate the occasion the Lions sponsored a book containing photos of all the events that marked the occasion. The book was compiled by Tring Together and copies of the book have been presented to Tring Town Council, the Library, Tring Together and last year's Town Mayor, Stephen Hearn.
All the local schools took an active part in the celebrations and yesterday copies of the book were also presented to them.
An emergency phone has now been installed alongside the defibrillator outside the High Street Baptist Church. The installation of the defibrillator was sponsored by Tring Lions in memory of Lion Ken Brennan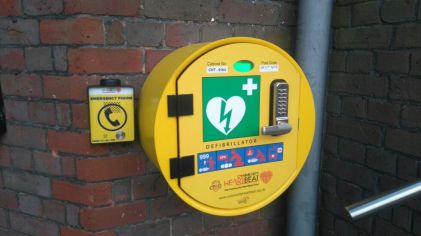 The Lions Book Shop in The Marlowes Hemel Hempstead........ Tring Lions run a mini bus service to Berkhamsted
............operated by Tring Lions every Wednesday ..................... for the 1066 Club for t he blind and partially sighted
....................................................................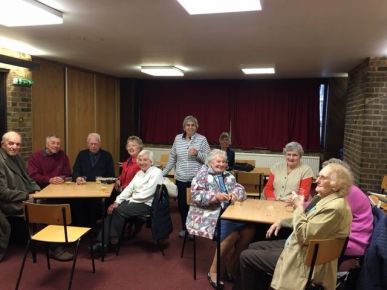 Providing transport to the Friendship Teas at Emma Rothschild Court
Tring Lions Club was established in 1973. Part of Lions Club International, a voluntary organisation of over 40000 Lions Clubs in over 200 countries. Total membership is over 1.4 million members including over 18,000 in the UK. Tring Lions Club has 16 members.
We are a non-profit making organisation. Members pay an annual subscription which pays for the running of the Club
ALL public donations and funds raised are passed straight on to good causes
Open to all sections of the community, to all faiths and religions
Just a club for people who want to give their free time and to help their community
Tring Lions CIO - registered Charity in England No. 1181199


Underground_Quiz_-_answersV3.pdf